A lip smacking, creamy, Low carb & Keto coconut milk based curry inspired by Thai cuisine that can easily be made from ingredients already available in your pantry.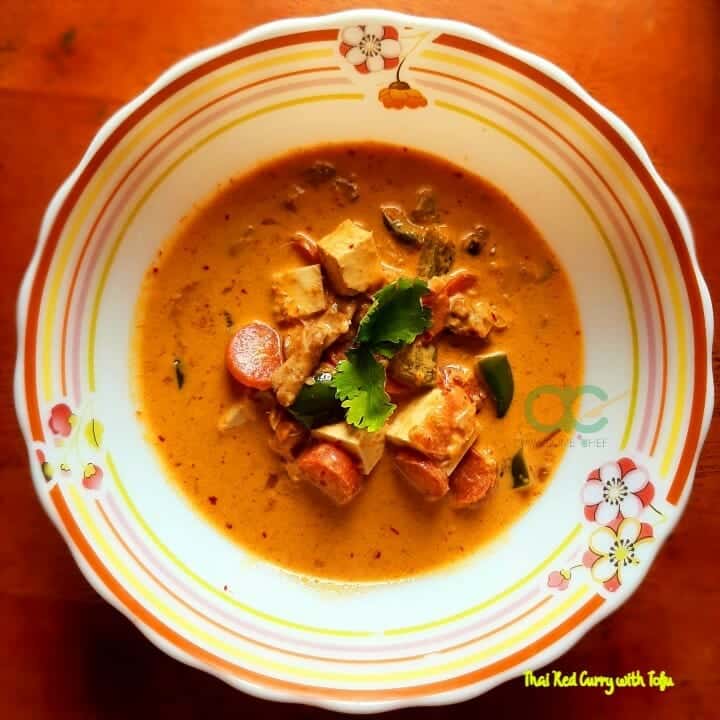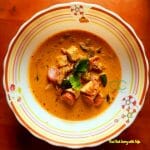 The Thai Red Curry is actually Keto!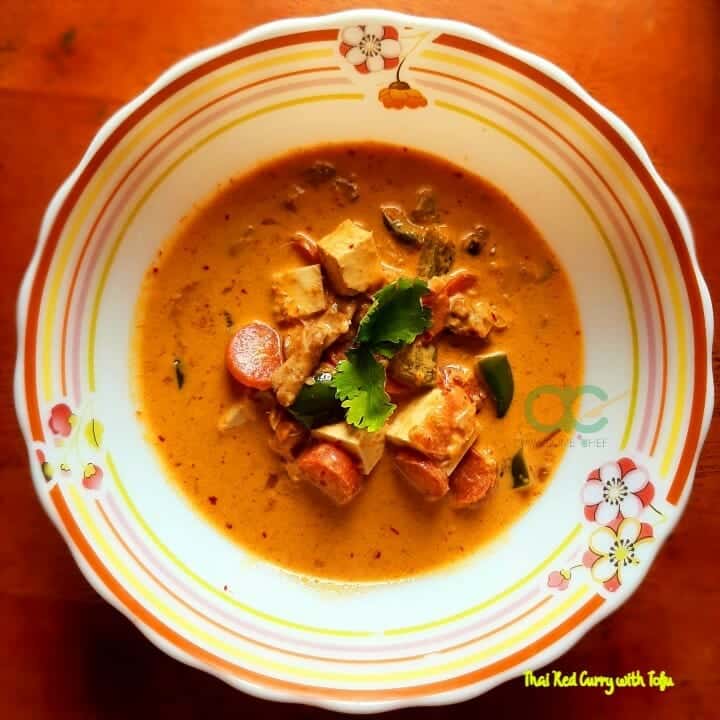 Think Thai food and one invariably starts thinking about the famous Thai curries. Be it Red, Green or Yellow, all of them are global favourites.
Thai Red Curry is highly aromatic and flavourful. At lunch, my husband and I usually sit down together to eat. But today, the aroma of the Red Curry was so intense and tempting that I was fully prepared to sit alone & enjoy the meal on my own, if my husband was not willing to join me then & there😈.
The base of the dish is the Thai Curry paste traditionally made with mortar and pestle. Traditional ingredients used in the Red Curry paste are red bird's eye chillies, shallots, garlic, shrimp paste, galangal, kafir lime leaves, coriander seeds, coriander roots, cumin and lemon grass. It becomes a little difficult to procure a few of these ingredients and hence I've perfected a recipe based on ingredients available in India.
Combining these ingredients with creamy coconut milk along with some protein and vegetables will give you a smooth curry, mildly spicy curry that pairs up really well with steaming long-grained rice or even Cauliflower rice (if Low Carb or Keto).
CAN IT BE MADE VEGETARIAN?
Yes, Absolutely! While the traditional Thai cuisine calls for fish sauce or shrimp paste to enhance the flavour, this can easily be dropped if you are looking to make a vegetarian version like the one I've made here.
Similarly, certain swaps can be made like substituting ginger for galangal and using lemon rind instead of kaffir lime leaves.
DIY vs. BUYING IT?
Well, it is easy to buy a Thai Red Curry base from the market or even order online from Amazon. But, somehow I've always felt that the intensity and flavour of some of the masalas when purchased is always lesser than the one made at home. Apart from this, as I follow Low Carb, I try to keep my ingredients as additive free as possible. Store-bought stuff usually have some type of additive to enhance shelf life.
Having said this, in case you are running short of time or are for some reason unable to make the curry paste, the store-bought versions make a reasonable substitute.
You can find the recipe for the Thai Red Curry paste here. Again, the curry paste is so flavourful that you can add it many recipes, including your salad dressing. The paste has a long shelf life and can be stored for at least 1 month in the fridge.
IS THAI RED CURRY KETO FRIENDLY?
These ingredients also make it an excellent Low Carb dish that can be enjoyed on it own. Just add a few extra vegetables or meat to make it makes a hearty warm stew rich in fats from the coconut milk and quite filling. This can also sustain you for at least 5-6 hours easily.
The Thai Red curry is a very versatile dish and you can just about add any vegetable you like, based on what you have at home. Some of the most popular proteins that go into it are – chicken, beef, pork and tofu (for the vegetarians). This is one dish that you would always want to make in large batches so that you can refrigerator and enjoy the next day too.
If you are wondering how to get started on Low Carb or Keto, you can drop us a message and we can help you get started.
Thai Red Curry with Tofu
A lip smacking, creamy, Low carb & Keto coconut milk based curry inspired by Thai cuisine that can easily be made from ingredients already available in your pantry.
Nutrition
Serving:
1
serve
|
Calories:
461.8
kcal
|
Carbohydrates:
12.4
g
|
Protein:
17.3
g
|
Fat:
38.1
g
|
Fiber:
3
g
|
Sugar:
3.9
g
Ingredients
50

g

Onions

finely chopped

100

g

Capsicum (Any colour)

diced into medium cubes

100

g

Carrot

Chopped into thin discs

60

g

Mushrooms

200

g

Tofu

Cubed

1

inch

Ginger

finely grated

2

large

Garlic

finely grated

1/2

tsp

Red Chilli powder

(optional)

2

tbsp

Red Curry Paste

or 50g approx

1.5

tbsp

Coconut Oil

400

ml

Coconut Milk
Instructions
In the non-stick wok, heat the coconut oil

Add the grated garlic, ginger and chopped onions. Saute it for 15-20 seconds until it is translucent.

Now add the carrots and sauté it. Add some salt and allow it to soften for 1-2 minutes.

Once it is half cooked, add in the capsicum and mushroom and allow all the vegetables to cook well until tender. You can add a couple of spoons of water to help it cook faster.

Once all the veggies are almost 80% done, add in the curry paste, chilli powder (optional) and tofu.

Sauté well for 30 sec - 1 minute until the raw smell goes away.

Now pour in the coconut milk and allow it to simmer for a minute or two while stirring continuously. If the stew is too thick, you can dilute it by adding in a few spoons of water.

Check and adjust the salt and seasoning and turn off the flame.

Serve hot on its own as a stew or with Cauliflower / regular basmati rice
Notes
Coconut Milk & options
I have used Kara Coconut milk for this recipe and calculated the macros based on that. You can use any other brand or choose home pressed coconut milk for this recipe.
You can also use Coconut cream for this. The fat content will be slightly higher and you may want to reduce the quantity as the cream will be thicker than milk.
Proteins & Options
To make a non-veg version of this recipe, just swap tofu with chicken, beef, fish or pork. They all work well. 
You may have to cook the meats a bit more longer than the tofu before pouring in the coconut milk. 
You can increase the quantities of meat or tofu if you'd like to increase the protein content per serving.