Red Curry paste inspired by Thai Cuisine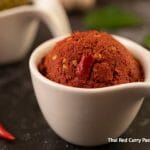 When one thinks of Thai cuisine, the Red Curry is undoubtedly at the forefront. Known for being highly aromatic, this curry is also Keto and Low Carb friendly. You can check out the recipe for the curry here. The base of this highly flavourful curry lies in Thai Red Curry paste. Get the paste right, and you can automatically get the curry right.
The secret to the aroma and intense flavour of the Thai Red Curry, lies in the curry paste and coconut milk. The traditional and authentic curry paste contains Thai centric ingredients like Birds eye chilli, galangal, fish sauce, shrimp paste and Kafir lime leaves.
Making this Thai Red Curry paste is extremely easy and once you taste this, you will never resort to a store bought one ever! The home-made version is also a much healthier version without any chemical preservatives or additives.
Living in India, it is sometimes difficult to procure some of these ingredients and the store bought brand isn't that great a substitute for taste and flavour. Another thing that puts me off the store bought brand is the fish/shrimp sauce. While this is an essential ingredient, I'm not keen about it. So, I decided to experiment with a few local swaps and see if the taste could be replicated to some extent.
After a few tries, I should say, the curry paste came out really well. While it may not exactly be the same, it does resemble the authentic curry to a large extent. The trick to getting the rich red colour is to use Kashmiri chillies (byadgi chillies) which are mildly spicy, but give a rich, intense red colour to the dish. If you'd like to increase the spiciness, then add a couple of regular dry, long, red chillies.
The final version of the Thai Red curry paste was highly aromatic, mildly spicy and stays great for at least 1 month in the fridge. It also makes a fantastic dip and can be added to the usual mayo/yoghurt based dips for the additional kick of flavour.
Go ahead & enjoy the curry paste.
Thai Red Curry Paste
Red Curry paste inspired by Thai Cuisine
Ingredients
12

nos.

Kashmiri Chilli

Soaked in warm water for 10 minutes

100

g

Onion

roughly chopped

1

inch

Ginger

2

Cloves

Garlic

1

tbsp

Cumin seeds

2

tbsp

Coriander seeds

1

tbsp

Lemon Juice

5-6

numbers

Black Peppercorns

1

inch

Lemon grass stalk

1

tsp

Coriander leaves

Chopped
Instructions
Blend all the above ingredients in a blender

Add 1-2 tbsp of water to ease the blending process.

Store in air-tight container and keep it refrigerated.