Sprinkle, dip, or mix—the versatile Peanut Garlic Podi is a delectable South Indian condiment that adds a delightful twist to your favourite dishes.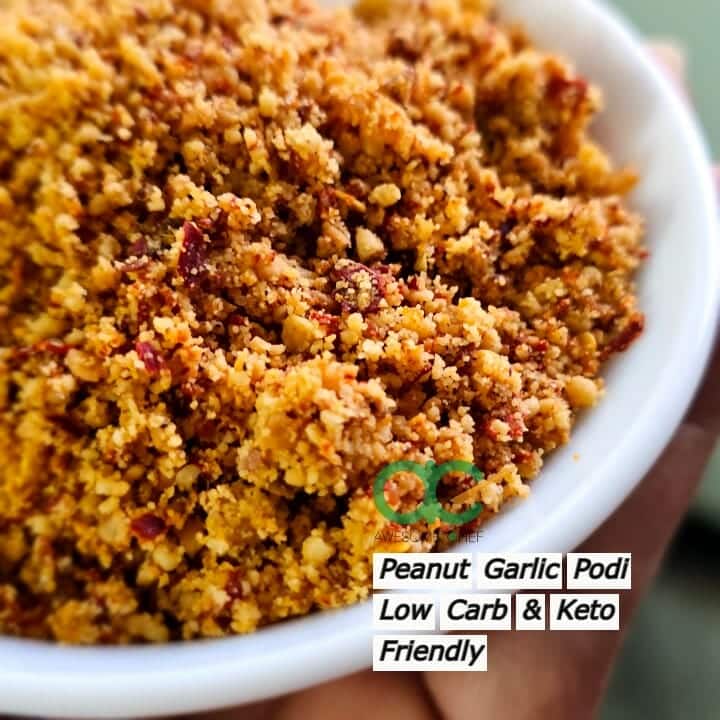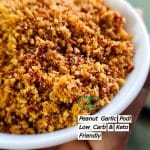 Peanut Garlic Podi: The Ultimate Low Carb Blend of Nutty and Spicy Flavors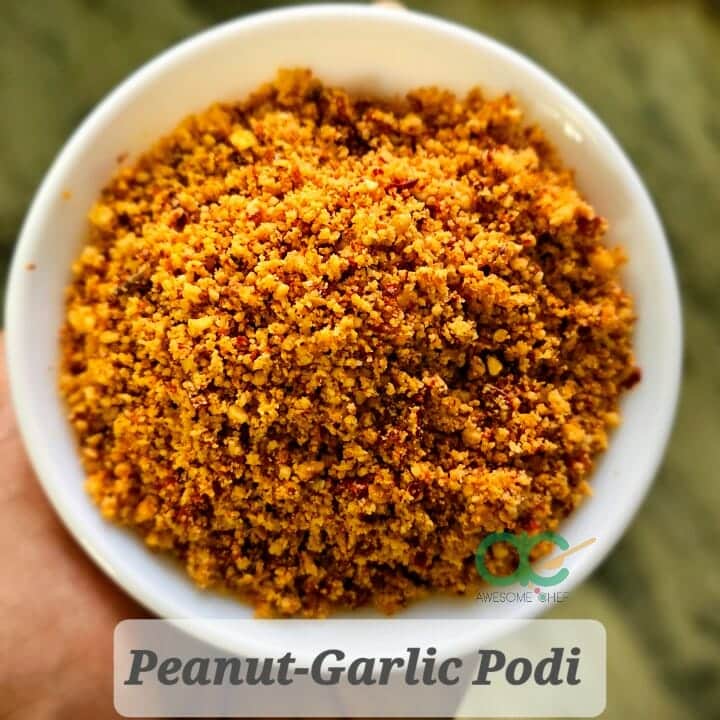 Get ready to tantalize your taste buds with the irresistible Peanut Garlic Podi, also known as Shengdana Chutney. This flavour-packed South Indian delicacy is a medley of roasted peanuts, aromatic garlic, and a symphony of spices. The distinct nuttiness of the peanuts harmonizes perfectly with the strong kick of garlic, creating an irresistible blend of flavours that will leave you craving for more.
This versatile condiment can be used to elevate your culinary creations in various ways. Enjoy it with some hot low carb dosas or Keto idlis for an extra punch of flavour, or sprinkle it on some Paneer, scrambled eggs or subzis for a simple yet incredibly satisfying meal. The Peanut Garlic Podi also makes for a delightful accompaniment to rotis, parathas or even as a dip for crunchy vegetable sticks.
With minimal ingredients, time and effort resulting in a delightful blend of nutty and spicy notes, the Peanut Garlic Podi can become a staple spice powder for all your low-carb or Keto dishes. So gather your ingredients, fire up the stove, and get ready to embark on a culinary adventure that will take your taste buds on a delightful rollercoaster ride.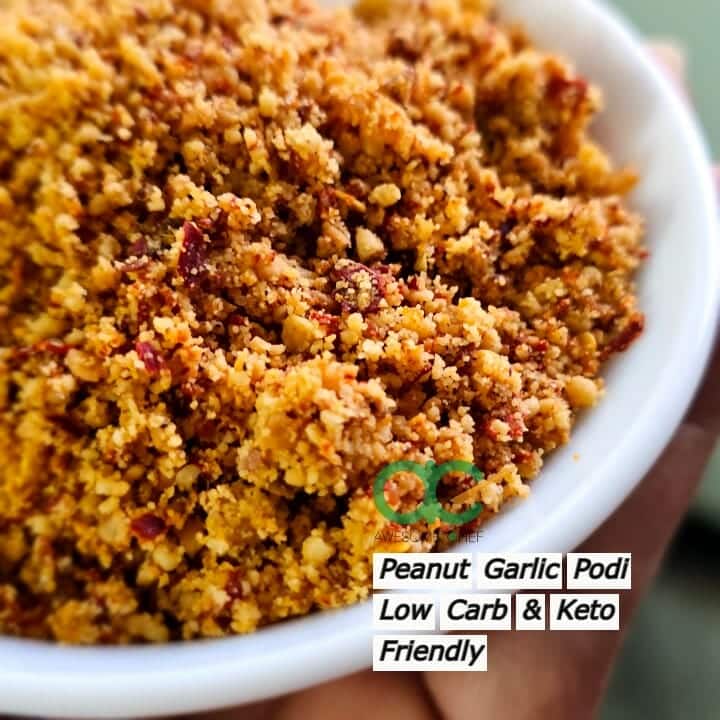 Low Carb Peanut Garlic Podi
Sprinkle, dip, or mix—the versatile Peanut Garlic Podi is a delectable South Indian condiment that adds a delightful twist to your favourite dishes.
Servings:
175
grams (apporox)
Nutrition
Serving:
100
g
|
Calories:
607.5
kcal
|
Carbohydrates:
21.2
g
|
Protein:
22.3
g
|
Fat:
48.2
g
|
Fiber:
8.21
g
Ingredients
150

g

Roasted Peanuts

10

nos

Garlic Pods

large

20

g

Sesame Seeds

2

inch

Tamarind

15-20

nos

Kashmiri Chilli

Salt

to taste

⅛

tsp

Coconut oil
Instructions
Take a large heavy bottom kadhai and heat it.

As it warms up, add the oil. You can use groundnut oil also.

First add the tamarind and garlic, roast it for 1 min on low-medium flame.

Now add the chillies and sesame seeds to this. Roast for 1 more minute until you start getting a light aroma of roasted sesame and the heat of the chillies.

Turn off the gas and allow this to cool for few minutes.

Now take the medium mixie jar and coarsely grind the roasted peanuts. Keep this aside.

Using the whipper mode, grind the other ingredients in short bursts. You will get a coarse mixture.

Add in the powdered groundnuts and salt (as per taste).

Give it 1-2 short blitzes in the mixer and you are done.

Allow this to cool and store it in an air tight container. Finish it within 1-15 months.
Notes
Serving Size : approx 2 tbsp.
Frequently Asked Questions (FAQ) about Peanut Garlic Podi
Q: Is Peanut Garlic Podi suitable for a low-carb diet?
Absolutely! Peanut Garlic Podi is an excellent choice for those following a low-carb lifestyle. This flavorful chutney is made primarily from roasted peanuts, which are low in carbohydrates and high in healthy fats and protein. It's a great way to add a burst of flavour to your meals without compromising your low-carb goals. Plus, the combination of peanuts and garlic provides a satisfying and satiating experience, keeping your cravings at bay. So go ahead and enjoy the rich flavours of Peanut Garlic Podi guilt-free!
Q: Can Peanut Garlic Podi be used as a keto-friendly condiment?
Certainly! Peanut Garlic Podi is a fantastic condiment option for those on a keto diet. Its main ingredients are peanuts and garlic, this chutney offers a delightful blend of flavours while being low in carbohydrates and high in healthy fats. It adds a deliciously nutty and savoury kick to your dishes without spiking your carb intake. Drizzle it over roasted vegetables, sprinkle it on grilled meats, or mix it into your favourite keto-friendly recipes for an extra boost of taste and texture. Peanut Garlic Podi is a keto-friendly condiment that will elevate your meals to a whole new level.
Q: Can Peanut Garlic Podi be made without peanuts?
Although peanuts are the star ingredient in Peanut Garlic Podi, you can certainly experiment with alternative nuts or seeds. Almonds, cashews, or sunflower seeds can be used as substitutes for peanuts to create a different flavour profile. Each alternative will lend a unique twist to the chutney, allowing you to customize it according to your taste preferences. Remember that the texture and taste might vary slightly, but the essence of this flavorful condiment will still shine through. Get creative in your kitchen and try out different nutty variations of this special chutney!
Q: How long does Peanut Garlic Podi stay fresh?
Peanut Garlic Podi can stay fresh for up to two to three months when stored in an airtight container in a cool and dry place. The chutney's roasted peanuts and spices help preserve its flavour and quality. However, ensuring no moisture enters the container is essential to avoid spoilage. If you live in a humid climate, storing the chutney in the refrigerator is advisable to maintain its freshness for a more extended period. But with its irresistible taste, you'll likely finish it well before it reaches its expiration date!
Q: What are some dishes that pair well with Peanut Garlic Podi?
Peanut Garlic Podi is an incredibly versatile condiment that complements many dishes. It pairs exceptionally well with traditional South Indian breakfast items like idlis and dosas, adding a delectable crunch and flavour. You can also enjoy it with steamed rice mixed with ghee or oil for a simple and satisfying meal. For a fusion twist, try using Peanut Garlic Podi as a seasoning for roasted vegetables, stir-fries, or even a topping for avocado toast. The possibilities are endless! So get creative and explore the culinary wonders that Peanut Garlic Podi can bring to your table.