Low Carb Dosa made with healthy sprouts. Ideal for dinner or breakfast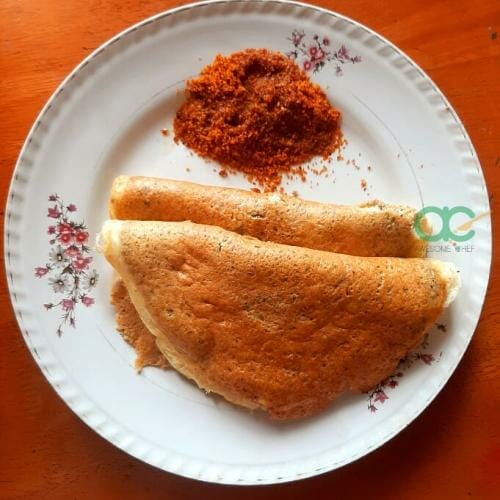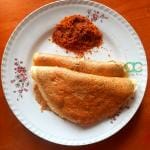 The easiest Low Carb Dosa – ever! That too, with just 3 ingredients – it can't get any simpler than this!
If ever there were a dish that were to take the Indian soul to heaven, Dosa would invariably be in the top 10. Made with rice and a small quantity of lentils, this crispy, crunchy, highly versatile dish is sadly, not Low Carb friendly.
Clients in my mentoring program love the low carb lifestyle and don't crave rice or roti. But, they would always wish for a dosa and keep asking if I had a recipe that would make their journey all the more delightful.
This recipe is dedicated to them and all others in the Low Carb world who crave a good dosa occasionally
WHY A LOW CARB DOSA?
A few months into my own Low Carb journey, my husband also started following a Low Carb ketogenic approach after seeing the benefits I was reaping. But, after a couple of months of eggs based brunch, he started tiring of it and I had to quickly find a solution lest he lost out on the 10kg weight loss he had already achieved by then.
That's when I started experimenting on a Low Carb Dosa. While there are lots of keto dosa recipes on the internet, I wasn't keen on eating so much cheese and almond flour.
My initial recipes was quite tricky and sometimes just wouldn't work. When I recommended it to my clients, it always ended up in a disaster and I stopped making the dosa altogether. It became too much work.
Recently, I picked it up once again and made it this time with a few modifications and fewer ingredients, I got it right! Delightfully tasty and when paired with Peanut & Sesame podi (alternate to the traditional Idli Podi), it was Low Carb Dosa Heaven. The best part was that I also managed to retain the Indian-ness of the dish. 😎
WHY GREEN MOONG?
In a pure Ketogenic Diet, lentils are completely off the plate as the carbs tend to be 20g or fewer. However, in a Low Carb approach, there is a higher flexibility and allows a person to include a few highly nutritious items which technically is removed on Keto.
Among all lentils, Moong Dal, especially the Green Moong, is one with the highest protein content [1]. However it also rich in carbs, but with the high fibre content, it can be brought down to lower levels. When the soaked Moong Dal is sprouted, it reduces the carb content even further making it an ideal choice for the LCHF diet.
100g of sprouted moong beans is just 5g of Carbs & 3g of Protein.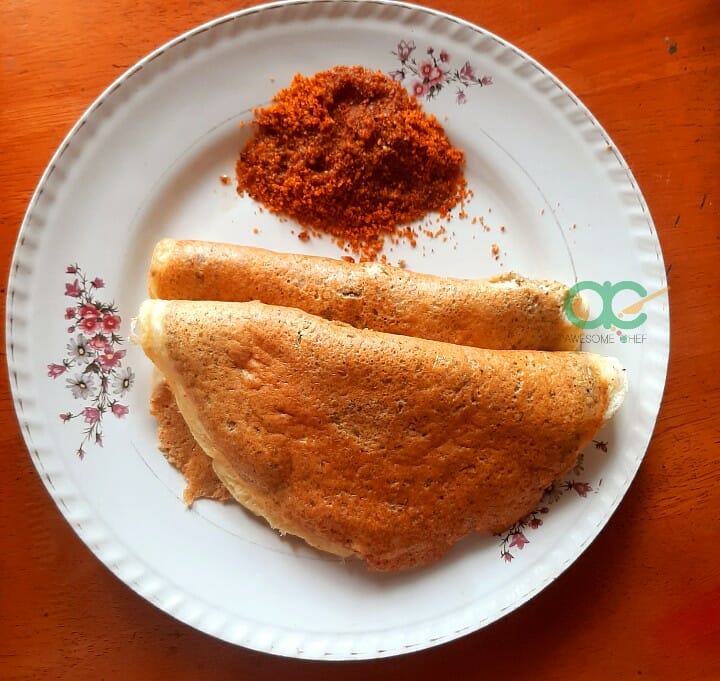 MAKING IT A HIGH PROTEIN MEAL
The key to every successful LCHF meal is to have good amount of protein in it.
But this Low Carb Dosa doesn't meet the protein parameters on its own. To make it protein friendly, you can convert it to an Egg Dosa by breaking & spreading an egg over it. You could also pair it with an Egg-curry, Paneer dish or any other seafood/meat curry apart from the traditional serving of coconut chutney or the podi.
3 Ingredient Low Carb Dosa
Low Carb Dosa made with healthy sprouts. Ideal for dinner or breakfast
Nutrition
Serving:
1
Dosa
|
Calories:
156.8
kcal
|
Carbohydrates:
11.7
g
|
Protein:
5.2
g
|
Fat:
9.9
g
|
Fiber:
2.9
g
Ingredients
100

g

Green gram/Moong Sprouts

Sprouted for at least 3 days

1

tbsp

Gram Flour/ Besan

~10g

1

tbsp

Ghee

Salt & other spices

as per taste
Instructions
Grind the sprouts to make batter for the dosa. Add very little water to avoid runny consistency. Batter should be smooth.

Mix Besan/Gram flour into the sprouts batter and adjust salt and water.

Heat a non-stick dosa tawa on medium flame.

Once it is warmed up, take a ladle of batter and spread it slowly on the tawa. Don't make it too thin.

Spread a spoon of Ghee around the dosa and reduce the flame. Allow it to cook on low - medium heat.

After 1 minute, check if the side is cooked and you can take it off the tawa.

Flip & allow it to cook on the other side. Take it off and set aside.

Make similar dosas from the remaining batter

Serve with Coconut Chutney or any other meat/egg/paneer based curry
Notes
The NON-STICK TAWA is very important. In most of the other tawas, it ends up a sticky and broken mess. So it is best that you make it only on the non-stick tawa.