Badam Burfi is a favourite festival sweet. This Keto Badam Burfi is sugar free, diabetic friendly and can be enjoyed even if you are weight watching.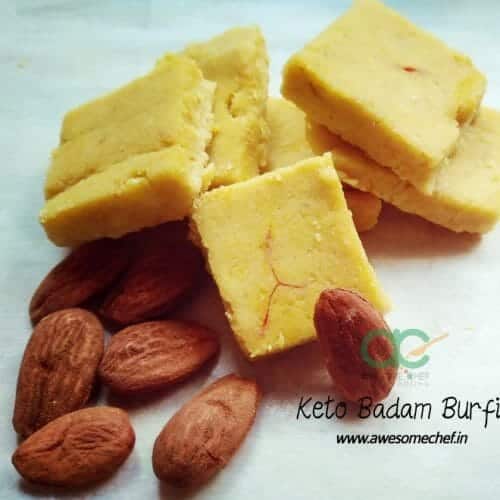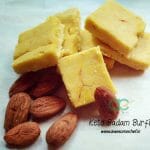 It was during Diwali 2018 that I first made the Keto Badam Burfi. Badam or Almond Burfi or Katli along with Kaju (Cashew) Katli is one of the most common sweets from our Indian cuisine. During my sugar addiction days, I used to binge on store bought Kaju Katli, but ever since I switched to a Low Carb lifestyle, my sugar cravings magically disappeared and I kinda automatically stopped eating too much sweet.
During Diwali 2018, my friend, who is also an ardent Keto follower and baker, and I decided to make and sell Low Carb sweets for Diabetics to enjoy. While the whole country was celebrating, we totally understood what it was to feel left out. Apart from the Keto Badam Burfi, we also made fresh Keto Coconut Laddu and Keto Chocolate Cupcakes. Our idea and products were a massive hit! With so many diabetics and Low Carb-ers enjoying our sweets with family, it made our Diwali that year, extra special. The best part was that even the non-diabetics couldn't find out the difference and loved it equally.
What I love about the Indian LCHF lifestyle is that you get to make and eat sweet treats that are not just tasty, but healthy as well and completely contribute towards your overall wellbeing.
2020 Diwali has to be special and we need to break out of all the dark fog that has hovered over our lives for almost the entirety of this year. So, for this Diwali, I hope this Keto Badam Burfi recipe puts a smile on all your faces!
Making the Keto Badam Burfi
This recipe is absolutely simple. You just need 5 ingredients and ta-da…you are done! 🤩
As a first step you will need to soak Badam or Almonds in hot water for 30-45 minutes and peel the skins. Alternatively it can also be soaked overnight. Peeling the skin is easy – just squeeze the end of the badam and it will pop out of its skin! Grind it to a coarse paste and cook it with other ingredients over a low flame. Another thing that is important for this recipe is using Non-Stick kadhai or wok. This will ensure that the mixture doesn't stick to the bottom of the pan and burn.
The Sweetener
Unlike the traditional recipe that uses sugar or jaggery, we will be using Erythritol to sweeten the Keto Badam Burfi. Why not Stevia – you might ask. Well, personally I prefer stevia for sweetening my beverages or even Keto Shrikhand, but not cooking. It is quite potent and can have a mild after taste. Erythritol is less sweet. I liked the burfi less sweet as it allowed me to get the natural taste of almonds and other ingredients. If you like, you can do a blend of Erythritol and Stevia drops for an elevated sweetness.
(I've shared the links at the end to purchase either of these sweeteners.)
What are the benefits of Almonds or Badam?
For anyone familiar or practicing the Low Carb life, eating Almond or Badam is an everyday routine. But why is it a part of the everyday routine? Here's a quick reminder why Almonds are so much better than other nuts, including the high-carb cashew.
Another way to extract the nutrients even better from Almonds is to peel off the skin. The skin has certain natural anti-nutrients that prevent absorption of certain minerals by our body. Peeling of the skin takes away the anti-nutrient. However, with very small quantities, this may not be required. So you can still continue to consume your favourite nuts every day.
Back to the Keto Badam Burfi recipe
So let's quickly get back to the recipe, have our ingredients ready to make this super treat and enjoy it with family. Let me know your experience with this recipe and share your ❤️ with a feedback, picture and comments 🤗.
Until then, wish you all a very Happy Diwali, folks! 🥳
Enjoyed this recipe and want to know more about the Low Carb Lifestyle, drop us a message here and we will give you a call back within 24 hours.
Note: For Stevia or Erythritol, you can buy either of the following brands on Amazon.
Keto Badam Burfi
Badam Burfi is a favourite festival sweet. This Keto Badam Burfi is sugar free, diabetic friendly and can be enjoyed even if you are weight watching.
Servings:
8
pieces (250g)
Nutrition
Serving:
1
piece
|
Calories:
139.4
kcal
|
Carbohydrates:
3.7
g
|
Protein:
3.9
g
|
Fat:
12.1
g
|
Fiber:
2.2
g
Ingredients
150

g

Almonds

20

g

Ghee

75

g

Erythritol

5-6

pods

Cardamon

Crushed into fine powder

few

strands

Saffron

15

g

Fresh Cream
Instructions
Soak the almonds overnight or for 30-45 minutes in hot water

After it is fully soaked, remove the peel and dry away the remaining dampness with a clean cloth.

In a mixie/blender, grind the almonds into a coarse, thick paste like consistency. You might need to add 1-2 spoons of water. Make sure not to make it watery, it can't be used to make the burfi.

Dilute the cream with 1 tbsp of water and add half the saffron strands to it. Keep it aside.

In the non-stick kadhai, heat the ghee.

Add the ground almond mixture to the kadhai and keep stirring it until it stops sticking to the side of the pan.

Now add the erythritol, cardamom powder and soaked saffron.

Mix well until it is nice and thick.

Grease a plate with some ghee or butter and spread the Badam Burfi mix on the plate.

Garnish with remaining saffron and allow it to cool in the fridge.

Cut into desired size and serve.