This Low carb mayonnaise can be easily whipped up in less than 10 minutes and does not require any special equipment.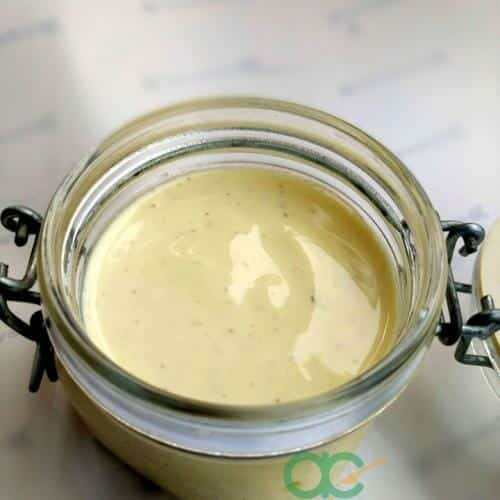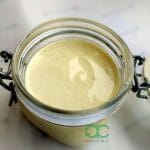 Simple, creamy and lip-smackingly delicious is how we would describe our Keto Mayonnaise 😋.
Mayonnaise is one of the must-have ingredients in your pantry. It is not just an amazing salad dressing, but also makes a fantastic spread and dip. For me, it brings my salad to life. Ever since I switched to Low Carb and increased my salad consumption (because it is so easy to toss a 3-4 chopped veggies 🥦🥬🥒 together & mix it up 😆), dressings became a constant issue! Initially, I was very weary of all popular brands in the store because of the ingredients. For a while, I slacked up and would carefully choose a Mayonnaise brand that had less sugar (not an ideal scenario, I know 🙈 ).
So I started making my own dressings from scratch. But never ventured to make the Keto Mayonnaise version. The reason for my apprehension was that most recipes called for a hand blender, which I did not have. But, as time passed, I stumbled on a hack, thanks to my Chef friend.
This method does not require any fancy equipment, just a regular blender jar or Mixie jar! After that it was just a swap of ingredients here and there & voila – my Mayo base was ready!
What is Keto Mayonnaise?
Mayonnaise is essentially a fat-bomb. Meaning, it is pure fat, with a few condiments thrown in for flavour. The base needs just 2 ingredients : Eggs yolks (or whole egg) and Oil. These 2 fats are emulsified using a whisk/blender like equipment which gives a creamy output.
Why can't I buy Mayonnaise from the store?
Most store stocked brands have 2 ingredients that one needs to be really careful about:
❌ Hydrogenated or vegetable oils
❌ Sugars
On the Low Carb Lifestyle, we are extremely careful about the fats that we consume and mostly stick to olive oil, coconut oil, ghee and butter. Seed oils, refined oils, hydrogenated or vegetable oils are a complete no-no and they cause a lot of harm. Needless to say, sugar is also a complete no as it has no nutritive property and is empty calories.
Having said this, if you consume a store bought version once or twice, it is not harmful. But if you are a frequent user of Mayonnaise, it is best to make and store at home.
If you do indeed find a Keto friendly version at the store, go ahead and pick it up, but keep an eye out on the price.
What's the shelf life of Keto Mayonnaise?
In the store bought version, the eggs are usually pasteurized to prevent contamination. The best part of making the Keto Mayonnaise at home is that it can be whipped up whenever you need. Every time you make a batch, it stays for a good 3-4 days if properly refrigerated.  As the ingredients are fresh and not pasteurized, the Mayo is likely to get spoilt early, unlike the store bought versions. But, since the recipe takes so little time to make, you can whip it up whenever you need.
Keto Mayonnaise
This Low carb mayonnaise can be easily whipped up in less than 10 minutes and does not require any special equipment.
Nutrition
Serving:
1
tbsp
|
Calories:
169
kcal
|
Carbohydrates:
0.1
g
|
Protein:
0.6
g
|
Fat:
18.5
g
|
Fiber:
0.1
g
Equipment
Mixie Jar or a big Wire Whisk
Ingredients
1

Egg (Whole)

200

ml

Olive Oil

(Light, not extra virgin)

1

tbsp

Lemon Juice

1

tbsp

Apple Cider Vinegar

(optional)

1

tsp

Pepper Powder

2

tsp

Mustard Paste

Salt

as per taste

few drops

Stevia

(Optional)
Instructions
Break the egg in a wide bowl.

Add the mustard, lemon juice and vinegar. Whisk it with hand for a few min till it starts changing colour.

Put the mix in a tall mixie jar and add a small amount of oil. Pulse it in small bursts, slowly keep adding oil in small quantities.

Keep pulsing it in small bursts till you start seeing a creamy texture.

Transfer this back into the bowl, check the seasoning and whisk it once again by hand to make it creamier.

Transfer into an air-tight container and refrigerate it.

Stays good up-to 3-4 days.
Notes
If you don't have mustard paste, you can use powdered mustard seeds.
In the absence of a blender, you can continue using the whisk. This process will take a bit more time and effort, but the result will be the same.
Stevia is optional and only if you are looking for the sweet taste.