An exceptionally simple Indian Low Carb Sweet treat to enjoy the festivities with your family.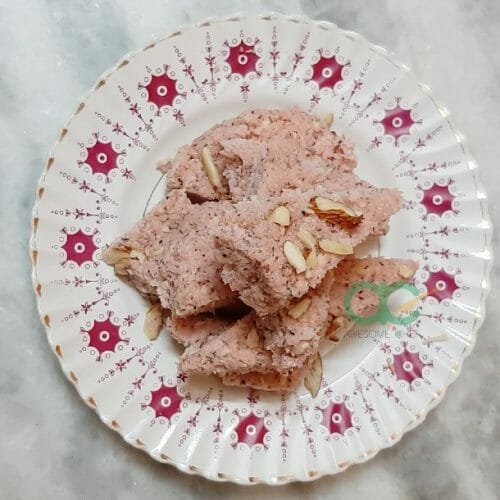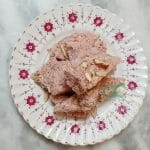 The festive season is already here. Even if you are on a diet, you won't feel left out with this delicious, easy-as-pie Low Carb Coconut and Paneer Burfi. You may have seen various versions of the Keto Coconut Burfi. But this one has a surprise twist. 😎. So, hold your horses and read till the end.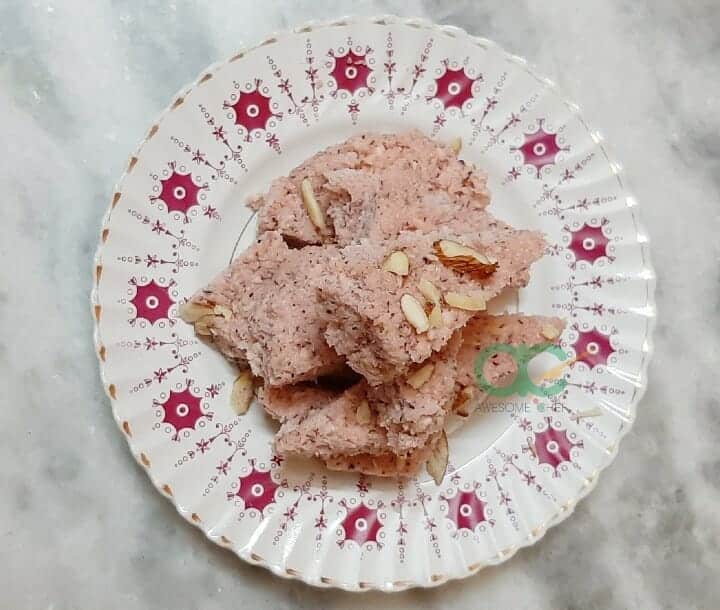 Majority of us suffer from sweet-tooth and sugar cravings. When you switch to a Low Carb diet, this craving magically vanishes and you suddenly do not feel like grabbing that sweet or binge eating that laddu on Diwali. Nevertheless, when the whole family is enjoying the festivities, why should you miss out? This Low Carb Coconut and Paneer Burfi dessert will make sure you not only satisfy your sweet-tooth, but also still be within your macros or not disrupt your blood sugar levels.
Our cuisine is famous for its sweets and it is easy to "keto-fy" some of them with a simple swap of ingredients. I have experimented with quite a few Indian LCHF dessert recipes and they have turned out to be quite delicious! I'll soon be making posts about them – so stay tuned!
Anyway, as I was experimenting with the sweets recipes, I realized that most of them had a downside – they were heavy on fats. While this is great news for Keto followers, I wasn't quite happy. I wanted to somehow sneak in some form of protein as well to bring a reasonable balance between fat & protein macros.
A simple solution presented itself in the form of Paneer & Whey Protein Isolate!
I used Whey Protein powder not just to add in some protein to the, but also to bring about a good texture to the Low Carb Coconut and Paneer Burfi and act as a binding agent.
Why Whey Protein?
Whey Protein is considered a High-Quality or 1st Quality protein and contains all the essential amino acids required by our body. It has the highest bio-availability compared to all protein sources and is easily absorbed and utilized by our body. Whey Protein Isolate, in particular, has higher protein & low carb content than any other protein supplement. As a predominant vegetarian, my Whey Protein Isolate has been a reliable source to help me reach my protein goal.
I have use un-flavoured Whey Protein so that it does not interfere with the taste of the other ingredients. With just a hint of sweetness showing through, this Low Carb Coconut and Paneer Burfi brings out the natural sweetness and nutty taste of coconut, which is otherwise overpowered by the taste of sugar in the regular version. This is a very simple recipe to make and requires just 5 main ingredients and less than 30 minutes of cook time.
So, don't miss out on the festivities and enjoy time with your family and friends with this simple, delicious and highly flavourful Low Carb Coconut and Paneer Burfi.
Loved it? Show us some love with your feedback and share pictures of your version of this beauty! 🥰
Note: Make this Low Carb Coconut and Paneer Burfi, you can Stevia or Erythritol, of the following brands on Amazon.
Low Carb Coconut and Paneer Burfi
An exceptionally simple Indian Low Carb Sweet treat to enjoy the festivities with your family.
Nutrition
Serving:
2
Pieces
|
Calories:
206.3
kcal
|
Carbohydrates:
5.2
g
|
Protein:
7.3
g
|
Fat:
17.3
g
|
Fiber:
2.5
g
Ingredients
200

g

Freshly Grated Coconut

75

g

Fresh Cream

100

g

Paneeer

crumbled

1

scoop

Whey Protein Isolate

Unflavoured

50

g

Erythritol

1

tbsp

Ghee

7-8

pieces

Cardamom

powdered

few drops

Rose essence/Colour

(optional)

4-5

pieces

Almonds

sliced into slivers

2

tbsp

water

to dilute the cream
Instructions
Dilute the thick cream with water and keep aside.

In a kadhai (preferably non-stick), heat the ghee.

Add the grated coconut and saute for 2-3 minutes.

Pour in the cream, crumbled paneer, rose essence and erythritol and mix well. Keep stirring to ensure the mix doesn't stick to the bottom of the pan.

Once most of the liquid is absorbed, sprinkle in the protein powder and cardamom.

Keep stirring for another few minutes until they mixture is thick and has absorbed all of the liquids.

Transfer this to a greased plate and spread the mixture. Garnish with sliced almonds.

Refrigerate this for 1 hour so it sets.

Slice it into pieces and serve.

Keep it refrigerated upto 5 days.