Keto Srikhand is a quick Indian low-carb dessert that is made with just 3 basic ingredients. This diabetic friendly treat can be a quick snack or a meal in itself.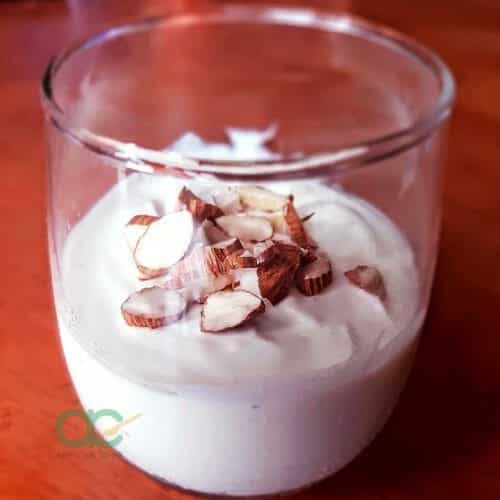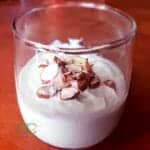 Srikhand is a quick Indian dessert that is made with just 3 basic ingredients. A quick swap can "keto-fy" this mouth-watering dish into Keto Shrikhand.
The Shrikhand originated from Gujarati and Maharashtrian cuisine and is served many-a-time with poori or roti. I love shrikhand and used to enjoy it during my High Carb days. This was a phase of my life when sugar was my achillies heel. Most meals would end with a sweet or a simple curd + sugar. But when I switched to low carb, my sweet cravings magically vanished!
The traditional version uses just 3 main ingredients: hung curd, sugar, cardamom and flavouring/topping (this is optional). For the Keto Shrikhand, I simply just swapped sugar with Erythritol+ Stevia combination and voila, I had an instant treat that also added to my proteins and fats macros and kept me fuller for longer. There are days when I would want some simple sweet treat and Keto Shrikhand becomes my go-to recipe.
Making the Keto Shrikhand
Making Keto Shrikhand is quite simple and this dish is very versatile too!
You can add a variety of low carb toppings, ranging from strawberries, blueberries, almonds, pistachios and kesar (saffron strands), to make it as tasty as possible. You can use this as an evening snack too when you are planning to take a break from work. The best part is that you can make Keto Shrikhand in bulk and store it for a couple of days as well. If it is stored for more than 3-4 days, it might start turning a bit sour, but it is still edible.
Make this Keto Shrikhand with fresh hung curd and preferably full cream/fat milk. If the latter is not available, you can use regular milk. Making hung curd/yoghurt is very simple – just pour the curd/yoghurt in a muslin cloth or a thin cotton material and allow it to hang and drip water for a few hours or overnight (best). The resulting curd/yoghurt will be quite thick and creamy. It is also highly nutritious as it contains nearly double the proteins & fats and half the carbs.
Shrikhand and Low Carb:
While the world carefully counts their calories with delectable treats like Shrikhand, wen you are on the Indian LCHF diet, you can tuck in as much as you want – when you eat a small portion, it is a snack; If you eat a larger portion, it can become your meal – it is as simple as that.
What are the benefits Keto Shrikhand:
Keto Shrikhand is made from hung yoghurt which contains all the goodness of regular yoghurt but in twice the portion, except the carbs. Most of the carbs are drained out in the form of the whey that drips out during the hanging process.
Hung Yoghurt is highly recommended for vegetarians because:
It is an excellent source of protein and fats. 100g of hung curd contains nearly
– 8g proteins and
– 7g fats.
– <5g carbs
 It has many important minerals like calcium, phosphorous and Vitamin B12. Vitamin B12 is a very essential to make red blood cells and combat anaemia. Dairy products are an excellent source for vegetarians on LCHF to increase their B12 count.
Yoghurt aids in digestion
Helps improve immunity
Improves heart health
So, this festive season, just enjoy the low carb life with this delightful, diabetic-friendly and healthy Keto Shrikhand 😍. If you have tried this recipe, show us some love with your comments and feedback 🗨️
Note: For Stevia or Erythritol, you can buy either of the following brands on Amazon.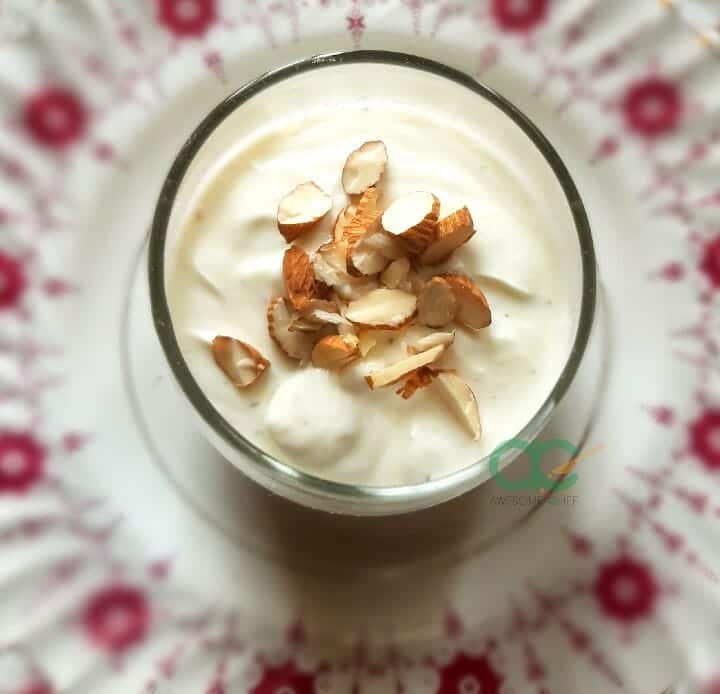 Keto Shrikhand
Keto Srikhand is a quick Indian low-carb dessert that is made with just 3 basic ingredients. This diabetic friendly treat can be a quick snack or a meal in itself.
Nutrition
Serving:
1
Serve
|
Calories:
249
kcal
|
Carbohydrates:
6.9
g
|
Protein:
10.3
g
|
Fat:
20
g
|
Fiber:
1.18
g
Equipment
Muslin cloth or thin cotton cloth
Ingredients
500

g

Yoghurt

Fresh, full fat or regular

35

g

Erythritol

Powdered

6-7

drops

Stevia liquid

6-7

pods

Cardamom

Seeds crushed to a powder

20

g

Almonds

Sliced/ Coarsely Crushed
Instructions
To Make Hung Curd
Take a clean muslin cloth and put it over a deep bowl. Fix the cloth with a band so that it doesn't move.

Pour the yoghurt and allow all the liquid to drain. It will take 3-4 hours. Or you can leave it overnight in the fridge

The remaining hung curd curd would be half the quantity of the original yoghurt.
Making the Keto Shrikhand
Transfer the hung curd into a bowl. You can throw away the whey water.

Take a wire whisk and lightly whisk the curd until it becomes smooth. If it is too thick, add 1 spoon of water or fresh cream.

Mix in the cardamom, erythritol and stevia.

Garnish with crushed almonds and serve cold.
Notes
You can use a variety of toppings like Saffron (Kesar) strands, Pistachios, Cashews and even Strawberries and Blueberries.
You can keep it refrigerated for upto 3 days after which it might be a bit sour, but it can still be consumed.